Client List & Testimonials
If images do not appear (Letter), disable your pop up blocker.
Merlin Gene Grigsby
Star of The Merlin Gene Show on RFD-TV
Dallas Wayne
SiriusXM Radio on air personality
Willy's Roadhouse
Devon Allman
My Foley acoustic is the MOST balanced feeling acoustic guitar I've ever put in my hands. It instantly feels like a vintage Martin and the attention to detail is apparent instantly. The woods are heart-breakingly beautiful and the tone is angelic. Crisp, clear, warm and articulate. Thank you Foley guitars !
Jason Roberts with Asleep at the Wheel
I've had the privilege to play a Foley guitar for the past several months. I took time to get to know this guitar before writing this testimonial and can honestly say from experience that Ed Foley's guitar has a warm, rich tone. While some guitars may have a sweet spot or two, Foley guitars are one big sweet spot. They sing at every fret. Ed's fine craftsmanship elicits compliments every time I play it. I appreciate the opportunity to have a Foley guitar among my collection and encourage other players to "pick the best."
"Legendary" Stefan Grossman
Ed Foley makes unique guitars that combined superb tone, workmanship, wood and playability. My friend Bill Scarpa has two of Ed's guitars. One was a 0 sized twelve fret brazilian rosewood that sound like a cannon but played like butter. The other was a 000/M sized guitar which had a deep resonance, a jazz styled neck and wonderful projection.
I was so impressed by these guitars and others I played at Ed's workshop that I asked him to build me one. We decided on a fourteen fret 000 sized model but with a slotted head and a slightly deeper body then its Martin counterpart. Ed's internal construction is unique and the complete top of the guitar resonates giving a clear, bell-like sound to each string. In some ways the sound reminds me of a 1930 OM-45 I owned and played for 15 years. The balance of the instrument is ideal for fingerstyle playing. We choose for the body some quarter-sawed Brazilian from Ed's wide selection of woods and a wide grained spruce for the top. The guitar almost plays itself!
Bill Monroe - Legendary Father of Bluegrass
"Ed Foley makes a wonderful guitar. They are perfect for Bluegrass. Anything I can do to help him I will be glad to do."
Aspen Pittman - Owner and fonder of Groove Tubes and G. T. Electronics - Letter
"I'll tell you Foley guitars are, by far, the finest made and the best sounding guitars on the planet."
George Strait - MCA Records Nashville - Numerous CMA & AMA awards - An Icon of Country Music - Letter
"I love my Foley guitar. I have had a lot of complements. The sound is great."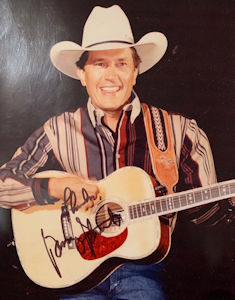 George Strait band members:
David Anthony - "There is no guitar like a Foley.
Rick Mc Rae - Letter - "My Foley is the best guitar I ever played."
Benny MacArthur - "I need a Foley for the studio"
James Bussell - President Silver Eagle Records Nashville
(I want to thank James for getting me my big break by introducing George Strait to Foley Guitars - Ed Foley)
"I have two Foley guitars. One was not enough. The only way I can describe them is, it's like strapping a baby grand piano on your back."
Jake Cauley
(In my opinion the best Traditional Country Baritone singer on the planet - Ed Foley)
"I have played only Foley guitars for many years. There is no other guitar that can compare to the quality and tone of a Foley. You can't imagine the playability and sound of a Foley until you play one. No wonder Ed's website says "PICK THE BEST".
Joe Diffie - Artist, Sony Records, Nashville
"I love my two Foley guitars. I use them for my delicate acoustic work."
Joe Diffie band members:
Craig Fletcher
Lee Bogan
Jim Heffernan
Kyle Lehning - President Asylum Records Nashville
I recommend a Foley guitar for anyone truly serious about tone."
Wanda Vick - TNN TV's Music City Tonight band member. Hosted by Ralf Emery TNN Prime Time Live band member. Hosted by Gary Chapman
1978 International Dobro Champion
1980 National Guitar Flatpick Champion
1990 ACM nomination, Best New Vocal Group (Wild Rose)
1990 Grammy Nomination Best International Performance
Wanda won more than 65 other first place awards. - Letter
"I love my Foley guitar. I am proud to play it. The tone is excellent, and it is truly a quality instrument."
Billy Joe Walker Jr. - Artist Producer, legendary guitarist. Has played on hundreds of Gold and Platinum recordings, in rock and country.
"Consistently superior balance and warmth. I don't know what Ed's secret is, but he better not let it out."
Andy Brauer - Studio Rentals - Letter
"We can't tell you how much everyone is impressed with your guitar"